Home Health Care Services
A Gold Coast Domestic Agency, Inc. is a small, private, European home service placement agency, owned and managed by J.Eva Pulczynska. We are licensed and bonded by the State of Illinois, and have been servicing Chicago and its suburban areas since 1996. We provide elderly care and child care and housekeeping. We provide 24/7 live-in services or come-and-go caregiver, companion, CNA, nanny and housekeepers. Our affordable home care services enable patients to remain safely and comfortably in his/her own personal residence. * In most cases, same day placement is available.
The owner J. Eva Pulczynska. is a volunteer working for the Personal Sponsoring of Children and Aging Program, a sponsor of Gift From the Heart Foundation. She also is a supporter of many other people and organizations in need, through monetary and Gift Certificates donations. A portion of the agency's profits are donated to charity programs .
Our home health care agency provides affordable Live-In 24/7 or Come-Go services: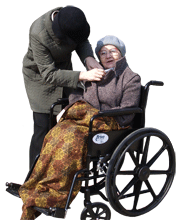 | | |
| --- | --- |
| Position | Placement |
| Elderly care services | Full time |
| Caregiver Chicago IL | Part time |
| Companion / CNA's | 24 hours care |
| Child care services | Live-In caregiver |
| Infant care services | Live-In Nanny |
| Nanny Chicago IL | Live-In Housekeeper |
| Housekeeper Chicago IL | Come-Go |
| Cleaning lady | Permanent |
| Transportation | Temporary |
Home care agency service is available 7 days a week, 24 hour a day.
Service can be provided within a 48-hour period and often the same day
Arrangement:
No Charge for arragment or consultation and assistance determining family needs.
Discuss family home care needs over phone,in person or via e-mail
Schedule no obligation meeting with home care qualified counselor
at clients home or in the office
Arrange an interview with prospective worker with clients family
Prospective workers:
Registered with our Agency, and personally screened and interviewed
by a licensed counselor
References verified and checked
Strong employment history and experience
Criminal and Driver License records provided upon the client's request
Qualified, experienced, and have worked through our agency
Trained and certified as required by the Illinois Department of Health
For full details of Terms and Conditions click Here, or contact us direct by telephone, or email.
For details please call
630-515-1672 or 708-870-8787
For Printable Version of Services Provided, Click Here
A Gold Coast Domestic Agency provides o Home Health Care Services o Home Health Care Agency o Suburban Home Health Care o Caregiver Illinois o Chicago Caregiver o Caregiver Elmhurst oNanny Elmhurst o Caregiver Downers Grove oNanny Downers Grove o Caregiver Hinsdale oNanny Hinsdale oCaregiver Napervilleo Nanny Napervlle o Caregiver Burr RidgeoNanny Burr-RidgeoSuburban caregiver o Elderly Care o Chicago Nanny o Gold Coast Nanny o Nanny services o Nanny agency o Nanny Illinois o Babysitter o Companion CNA o Housekeeper o Live-In oCome-Go o 24/7 services